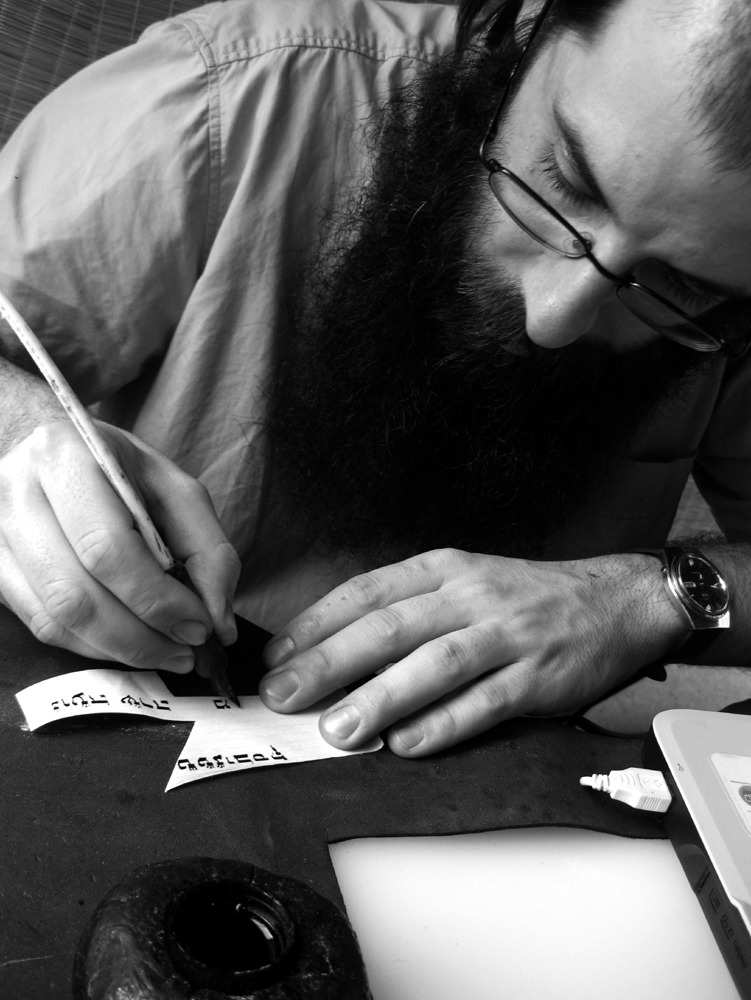 Dr Mark (מיכה) Farnadi-Jerusálmi is a postdoctoral researcher on the project Hebrew Manuscripts in the Digital Age at the École Pratique des Hautes Études (EPHE, PSL, Paris). Born in Hungary, he is a sofer STaM (scribe). He received his diploma as a sofer in 2005, and as a scroll supervisor in 2008, and has checked and restored dozens of old Torah scrolls. In 2016 he received an MA in Jewish cultural history and in 2021 he received his PhD jointly from EPHE/PSL, Paris, and OR-ZSE, Budapest, in Hebrew paleography and Jewish studies. His master's thesis was written under the supervision of Dr Edna Engel, and his doctoral thesis under the supervision of professors Judith Olszowy-Schlanger and Lawrence H. Schiffman, and Dr Balázs Fényes.
In Press
2022

The Art and Craft of Jewish Scribes (Sofrei STaM) and their Relation to Halakhic Literature in Medieval Ashkenaz. In: Simha Goldin, Andreas Lehnertz, Joseph Isaac Lifshitz, Maria Stürzebecher (Eds.): Jewish Craftspeople in the Middle Ages: Objects, Sources and Materials. Rethinking Diaspora Volume 5. De Gruyter Publishing House.
Peer-reviewed articles and book chapters
2020

Palaeographic and Halakhic aspects of the Erfurt Torah Scrolls. In: Claudia Bergmann und Maria Stürzebecher (Ed.): Ritual Objects in Ritual Contexts (Erfurter Schriften zur jüdischen Geschichte 6)
2021

An Unknown Ashkenazic Torah Scroll from the Turn of the 12th and the 13th Centuries. In: From Cairo to Amsterdam: Hebrew Scrolls from the 10th to the 18th Centuries. Henoch journal, Brescia.
Other publications
2014

The Tokaji wine – in Short on Jews, their Torah and their Repugnance from Forgeries. In: Szombat, a Jewish political and cultural magazine in Hungary. (http://www.szombat.org/hagyomany-tortenelem/a-tokaji-bor)
Translation and Analysis of Bar Kochba's Letter from the Cave of Letters. In: Hacofe, the scientific journal of the Jewish Theological Seminary, Budapest. (http://www.or-zse.hu/hacofe/kite/farnadiholttengeritekercs.pdf)
2015

Mosaic Art of Ancient Synagogues and its Palaeographic Aspect. In: font.hu, an online magazine of a leading typography company in Hungary. (http://font.hu/typograph/judaica/Az_okori_zsinagogak_mozaikmuveszete_A_r.pdf)
2016

Paleography of Four Modern Hebrew Scrolls: Analysis of Their Script in View of Earlier Writings at the Natonal Library of Israel. (https://digitalcollections.jtsa.edu/islandora/object/jts:507076)
The Fall of Buda (1868) in the Kinnah of Yitzchak Schulhof, its Translation and Comparison with a Turkish Folk Song. In: Hacofe, the scientific journal of the Jewish Theological Seminary, Budapest. (http://www.or-zse.hu/hacofe/vol10/kunosignac2015.htm)
Holyness of the Printed Hebrew Letter. At Fontim, 'Blog on typography, Hebrew and inspiration'. (https://fontim.co.il/קדושת-אותיות-הדפוס/)
Song and Text on the Stage: André Hajdu and Ha'oman Hai Ensemble Analysis of the "Calamus of the Soul". In: Hacofe, the scientific journal of the Jewish Theological Seminary, Budapest. (http://www.or-zse.hu/hacofe/kite/hajduandras2016.htm)
Ignotus' Relationship with his Jewishness. In: Forrás, a Jewish bimonthly journal in Hungary. (http://lativ.hu/wp-content/uploads/2016/09/2016.elul_forras.pdf)
2017

Using Snake and Fish Leather for Ritual Purposes in Halacha. Critique on Lajos Blau's "The Old Hebrew Book". In: Új Kelet, the Israeli bimonthly journal in Hungarian.
2021

Making of a Torah Scroll. [In English and German] In: MDE-Rundbrief: Mitteilungsblatt der Meister der Einbandkunst; MDE-Studienhefte. Meister der Einbandkunst, Internationale Vereinigung, Aachen.
Unpublished work
2015

The Pronounciation of the Letter Ayin from the Beginnings until our Days (https://www.academia.edu/20985259/The_letter_ayin._History_of_its_pronounciation._in_Hungarian._Az_%C3%A1jin_kiejt%C3%A9se_a_kezdetekt%C5%91l_napjainkig)